Donald Nelson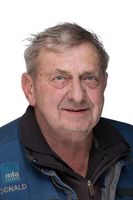 Donald Nelson has worked at Southland Fuel Injection and Turbocharger since the beginning. In fact, you could say he came as part of the sale when Brian bought the business in 1998.
He has been working with diesel engines for almost 50 years. Don likes that his job is interesting and challenging, because things are always changing.
Don is a motor racing nut. He likes to watch it and has raced grass carts and single seat motor cars. Don also has a soft spot for Gardner engines, which he considers to be highly efficient diesel engines used in vehicles, boats and trains.